It was a quiet weekend in general for the Pac-12 as two of the conferences top contenders UCLA and Washington had byes and four of the teams that did play hosted an FCS opponent while others faced FBS bottom feeders like UNLV and Hawaii. Looking up and down the slate, it seems as though only Oregon and Stanford faced a team with a pulse although, the conference season did get underway with an excrutiatingly boring game. Let's all hope that Wazzou-USC is not at all indicative of how the conference season will play out because that game was putrid. So what did we learn this weekend?
1. Lane Kiffin is not on the hot seat, that's because his seat has burst into flames.
USC has sunken to a level offensively that I never though it could. In the Pac-12 opener, USC's Max Wittek and Cody Kessler combined to go 11/21 for 54 yards and two picks. USC did not allow an offensive touchdown and lost at home to a team that hasn't had a winning season since 2003. Marqise Lee, the best wide receiver to play college football since Calvin Johnson in 2006 was held to seven catches for 27 yards. The team was booed throughout the game and chants of "Fire Kiffin" rained down from a sparse Coliseum crowd throughout the night.
During the game, this happened:
Poor Cody Kessler, he jumped on a chance to be the quarterback at his dream school and had no idea Kiffin would ruin him (by the way, Wazzou scored its pick-six on this play).
And in the wake of this embarrassing loss, USC fans have taken to vandalism to voice their displeasure: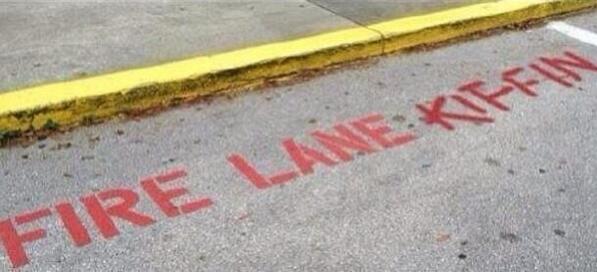 USC athletic director Pat Haden voiced his unwavering and unequivocal support of Kiffin before the season started and stated that his answer to questions about Kiffin's job security would never change. However, in the wake of USC's dreadful start, Haden has been eerily quiet. the case for Kiffin's ouster is easy to make, he is an offensive coach who employs his entire coaching staff including himself save for three people on offense, he calls the plays on offense, and he had a reputation for being a good QB tutor, yet USC his failing hilariously in all of those areas. USC in its current state could end up with a losing season. The Trojans defense looks great but they are still short on depth and have not yet had to face a good no-huddle offense. USC avoids Oregon and Washington this year and that's great but they still have to face UCLA, Arizona State, Arizona, and Cal. Those teams will expose USC's depth and score some points and I don't see how on earth USC will score enough points to keep pace with those teams.
USC's players have no confidence on offense right now. Their body language is terrible, particularly that of Lee who is probably on snap chat every night crying out to Matt Barkley about how much he misses him. Kiffin said himself that the offensive game plan was to not make costly mistakes and let the defense control the game. If that isn't the ultimate indictment of a head coach with an offensive background, then I don't know what is. Here's all you need to know about USC: you can make a very convincing argument that Utah State will win in the Coliseum in two weeks. Utah Freaking State. Oh and by the way, today Kiffin named Kessler as his starting QB but USC will not allow him to address the media about the decision and will instead release a YouTube video explaining the move. Yikes.
2. Oregon is miles ahead of everyone else and hasn't scratched the surface of its full potential.
Oregon beat an ACC team on the road by 49 points and the main narrative coming out of the game is, "Wow did Oregon ever look sloppy." It's crazy but it's true. Oregon committed over 100 yards in penalties, dropped four passes, one of which would have gone for a touchdown, missed key blocks on a pair of fourth and 1 plays, including one on the Virginia goal line, and QB Marcus Mariota was at times wildly inaccurate with his passes in the first half. Oregon was seriously a dropped pass and two missed blocks away from scoring 77 points on the road against a power conference team.
All of this does not bode well for the rest of the Pac-12 as Oregon is going to get these imperfections ironed out over time. They are actually running plays at a faster rate than they did under Chip Kelly, Mariota has somehow gotten better as a runner (
he's 21st in the nation in rushing yards with only nine rushing attempts
) and his accuracy started to round into form in the second half after a rough five quarters to open the season. The Oregon defense looks better than ever, particularly the defensive line that is two and sometimes three deep at every position and may have as many as 10 players who will make it to the NFL. Oregon is already scary good and has a lot to work on. If the Ducks perfect the minor details, no one will be able to stop them.
3. Arizona may not have a passing game.
I'm starting to think Rich Rodriguez is calling a conservative game plan and not running deep routes for a reason. I honestly do think B.J. Denker is the best option on Arizona's roster but his lack of arm strength is really starting to become a concern. Denker was 8/21 yesterday and still has not completed a pass that traveled longer than 20 yards through the air. Arizona can get away with this against patsies like Northern Arizona and UNLV but they won't succeed with this strategy in conference play. If Arizona can't throw deep, teams are going to load the box against the run game and jam the receivers at the line and it is going to leave the Wildcats nowhere to go with the football.
Speaking of the receivers, they have been a huge disappointment. Denker's uninspiring numbers haven't been entirely the fault of his pop gun arm. If you ever catch a glimpse at an endzone camera that shows what Zona's receivers are doing, you'll see that none of them are getting open. The great hope with star Austin Hill going down with a torn ACL was that at least one of the young complimentary receivers would expand his game and shoulder the load. But, that hasn't happened at all and reinforcements are not coming as star Notre Dame transfer Davonte Neal was today denied a second appeal at gaining eligibility for this season. If the receivers don't improve and if Rodriguez can't trust Denker to throw the ball, the Wildcats might be in for a tough year after all.
4. Stanford is exactly what you remember it being.
The brutality of this team is just awe-inspiring. Stanford returned all of its best players on defense from last season and all of them seem to have gotten better. Ben Gardner has shed some fat and gotten stronger making him more explosive than ever while Shayne Skov is finally 100% following his devastating knee injury in 2011. Henry Anderson, Trent Murphy, and Ed Reynolds look every bit as good as they always have and the entire team is playing with a machine like efficiency. I mentioned above that no one can stop Oregon if the Ducks get it going but that is not withstanding this Stanford team.
San Jose State is no joke but Stanford just sat on them and gave them no hope to do anything. The league as a whole has been heading in an offensive direction for years but Stanford is still hanging around doing things the old way and burying top offenses under an avalanche of disciplined and athletic tackling cyborgs.
5. After a nondescript weekend, the Pac-12 has a lot to prove next Saturday.
Let's face it, this past week's lineup of games across college football was boring, especially in the Pac-12 but that all changes next week. The Pac-12 and Big Ten will have a showdown as Cal hosts #4 Ohio State, Arizona State welcomes in #20 Wisconsin, UCLA has a huge game at #23 Nebraska (that starts at the comical hour of 9:00 AM PT), and Washington travels to face Illinois, a team that went 2-10 a year ago but is suddenly looking like a quality opponent after a big win over Cincinnati. The conference also gets another crack at the SEC as Oregon hosts Tennessee and the ACC will intersect with the Pac-12 once again as USC hosts Boston College (I'd tell you to take the under but you already knew you should do that). Colorado hosts arguably the best non-automatic qualifying team in the country in Fresno State while the conference season continues with an intriguing match up between Oregon State and Utah. The Pac-12's reputation will be riding on what transpires this Saturday and the conference will either come out of it looking like a true challenger to the SEC or an also ran stuck in the darkness.