Washington State 48, Southern Utah 10.
We wanted to see Connor Halliday take care of the ball and keep Wazzou moving on offense and yesterday we finally saw it. Halliday did throw an interception early in the second quarter but you can live with that when he gives you 32/41 for 383 yards and five touchdowns. There wasn't much to see here as Wazzou just wanted to get its offense on track and avoid injuries against a bad team. Wazzou did what it needed to do and blew out a bad team to move to 2-1. Wazzou will have another chance to stay on track and build more momentum next week against lowly Idaho.
Ohio State 52, California 34.
Okay so here's the scouting report on Cal through three games: offense = really good although mistake prone, defense = god awful. Ohio State's scored on each of it's first three possessions as the first two ended in touchdown passes of 90 and 47 yards. Cal gave up at least 40 yards on five of OSU's first six possessions and the only one that didn't go for at least 40 was a short 23 yard touchdown drive following a fumble.
The first quarter of this game was insane featuring a combined 38 points, three turnovers, and 470 yards. Cal was able to hang around for awhile as I thought they would with some big pass plays but they also made some critical errors that did not allow them to keep pace with the Buckeyes. Cal's short passing game was effective but when Jared Goff couldn't throw a screen or get a pass of right as his back foot hit, the Cal O-line struggled to protect and allow for longer routes to develop. Goff also showed his inexperience once again as Cal forced a fumble down 21-7 and gave the Bears a chance to get back in the game. Sonny Dykes decided to take a shot right away with a flea flicker but it didn't fool the defense. Goff predetermined that he would throw deep to Chris Harper but he ended up heaving into double coverage (and over threw Harper for his trouble) and was intercepted. OSU quickly turned that into a field goal to make it a three possession game and Cal never really threatened after that.
Cal needs to do something to shore up its defense. They won't be pitching shutouts and controlling games any time soon but they need to be able to do something. Whether it's rushing the passer, playing good coverage, tackling in space, filling gaps, or something else, this Cal defense needs to develop one good trait that they can lean on to get an occasional stop. Right now, these guys have absolutely no identity and not one thing they do well to fall back on. Cal is now 116th in the nation in scoring defense and 120th in yards allowed. They have a week off to do something to work on their defense and they better make the most of it because a road trip to Eugene to face Oregon awaits on the other side of their bye week.
Oregon State 51, Utah 48 (OT).
What a freaking game this was and what a freaking joke the Canadian government is. Thanks to the CRTC's feeble and senseless goals to "protect Canadian media," Fox Sports 1 isn't available in Canada (in addition to all the ESPN networks) and my usually consistent Ukrainian pirate streaming websites didn't have a stream for this game so I ended up missing what might be the best game in the Pac-12 all season. This was billed as two of the nation's most underrated passers in Kevin Wilson of Utah and Sean Mannion of OSU going throw for throw in a shootout and they lived up to the hype and then some. Wilson showcased the good and bad that you get from him as he was inefficient throughout the night and threw three interceptions.Wilson also showed what makes him so great as he put together 421 total yards (279 passing and 142 rushing) and five total touchdowns. The last of Wilson's three rushing touchdowns was a nine yarder that capped an incredible seven play, 75 yard drive that tied the game with 21 seconds left to force overtime.
Wilson was great if not sloppy at times but Beavers QB Sean Mannion was simply untouchable. Mannion threw for 443 yards and five touchdowns and did not commit a turnover. Mannion was certainly helped by wide receiver Bradin Cooks who has not only replaced Markus Wheaton in the Beavers offense, he's actually become better than he ever was. Cooks finished with nine catches for 210 yards and three touchdowns. Cooks scored an amazing touchdown in the 3rd quarter when he took a tunnel screen and outran at least six defenders while crossing the field and then threw a tackler off his shoulders while tip-toeing down the sideline for a 55 yard touchdown. Cooks also made a nice back shoulder catch with 2:29 to give the Beavers a late lead shortly before Wilson's game tying drive. Once in overtime, Cooks put the final stamp on the game as he ran a great square-in route and showed tremendous concentration as he
caught a pass off a deflection to score the game winning touchdown
. I casually said after last week that as good as Mannion and Cooks had played they'd need to be better to make up for OSU's atrocious defense. For at least one night, Mannion and Cooks did exactly that and earned a big win.
Also a quick side note, I didn't see the play so I'm not going to speculate about what happened but Oregon State running back Storm Woods took a nasty hit and was motionless on the ground for awhile and had to be removed by an ambulance. He flashed a thumbs up while he was stretchered off and Woods is currently resting in a Salt Lake City hospital and does have feeling and movement in all his extremities. Here's to hoping Woods will be okay.
Arizona 38, UTSA 13.
All it took was the graduation of one QB and suddenly Arizona has gone from arguably the most most exciting team in the Pac-12 to maybe the most boring. I didn't watch this game and from what I gather I hope you didn't either. The Wildcats trailed for the first time this season when UTSA kicked a field goal on its first drive but Arizona responded with a passing touchdown (!) and it was pretty much smooth sailing from there. I will say that this was B.J. Denker's best game as Arizona's QB by far. He finished 14/21 for 158 yards and that one touchdown. Denker also showed his best trait again by using his legs to rush for 90 yards and two touchdowns.
Ka'Deem Carey looked great at tailback again with 128 yards and two touchdowns of his own. Arizona never really pulled away per say but they controlled the game from start finish with its running game, timely passes, and strong defense. Yes, you read that last sentence correctly and yes this is a Rich Rodriguez coached team. Arizona has played fine and been uninspiring and that was all they needed against a terrible set of non-conference foes. Next up, Arizona finally picks on someone their own size after a bye week when they face Washington in Seattle.
Arizona State 32, Wisconsin 30.
Arizona State rode a career high four touchdowns from Marion Grice and an all back shoulder throw offense to the biggest win of the Todd Graham era. Jaelen Strong had a break out game with six catches for 104 yards and offensive coordinator Mike Norvell showed off D.J. Foster in his new hybrid role. Somehow I missed this during the off season but ASU has converted Foster into a hybrid wide receiver with 2012 Marion Grice as his model. ASU involved Foster in both the pass and run game and he looked pretty good. QB Taylor Kelly struggled somewhat especially under pressure and the ASU receivers outside of Strong really struggled with drops especially Richard Smith who dropped three passes in a span of two series in the second quarter and was benched for an extended period of time.
Defensively, ASU was solid. They did reasonably well against the Wisconsin run game and held James White to 45 yards on 12 carries. Melvin Gordon was a different story as he broke a number of tacklers and early in the 3rd quarter, ASU had some bad run fits and lost backside containment which allowed Gordon to bust one for an 80 yard touchdown. ASU did really well against the pass though as the Sun Devils had pressure in Wisconsin QB Joel Stave's face all night and held him to 50% completions.
But enough about all that, you probably want to figure out exactly what the hell happened at the end of that game. I tried to explain what happened in words to my dad last night but mere words didn't go very far. Luckily, YouTube exists to take care of that problem.
Okay, let's try to tackle this step by step.
1. Wisconsin is trailing by two and looking to set up a field goal attempt for the win but they are out of timeouts and cannot stop the clock. the Badgers are set up on the right hash mark and want to line up the field goal attempt down the middle to make it easier for their kicker.
2. Stave takes the snap and steps over to his left and takes a knee, his plan is to quickly get the Badgers lined up again and spike the ball with a few seconds left.
3. Stave takes the knee but as you can see, he bumps into one of his linemen and as a result, his knee quickly taps the ground and because of that, the ASU defense doesn't see his knee hit the ground and does not know that he gave himself up.
4. Stave places the ball on the ground and walks away from it but the ASU defense thinks it might be a fumble so they smartly pounce on the ball hoping to gain possession. The head ref quickly and correctly rules that Stave gave himself up and that the ball is dead and there is no fumble. This creates mass confusion and is why you should always toss the ball to an official after every play rather than putting it on the ground. If Stave tosses the ball three feet in front of him to the umpire, none of this would have happened.
5. ASU's Anthony Jones believes he has recovered a fumble and is lying on it waiting for an official to give a ruling as all defenders do when they fall on a loose ball. There should not be a delay of game penalty as Jones has every right to jump on that ball but the Umpire erred when he did not stop the clock to uncover the pile and re-spot the ball.
6. Wisconsin, particularly Stave, made a huge mistake arguing with the head official trying to verify that he did not fumble and also lobby for a delay of game penalty. The officials finally get Jones off the ball and spot it but by then Wisconsin can't get lined up in time for the spike and the clock runs out. For the record, there is a new rule in place that does not allow teams to spike the ball with less than three seconds left. Ironically, the rule was largely put in place to avoid a repeat of
what happened to Wisconsin in the 2012 Rose Bowl
. As a result, even if the Badgers had gotten the snap off it wouldn't have mattered.
7. In the wake of this, a lot of people have said that Stave never put his knee down and technically he did fumble. That theory has been disspelled by this photo: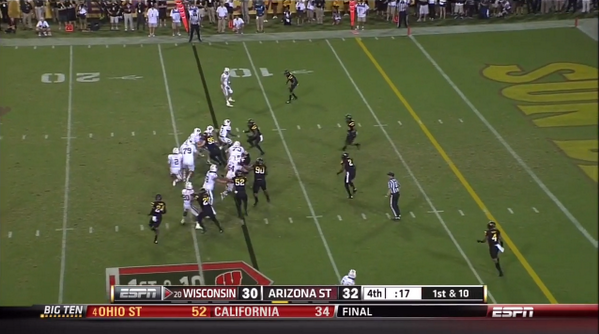 8. The fault for this is definitely on the officials who should have done a better job of getting Jones off the ball and spotting it with enough time for Wisconsin to run the spike. That being said, I have a big issue with Wisconsin's strategy. I get that you want to kick it with no time left but with no timeouts you have to play it conservatively just in case something like this happens. If they kick the ball on that 1st down play, it would take about five seconds to run the field goal so after a squib kickoff, ASU would have had the ball somewhere between their own 25-40 yard line with about 13 seconds left (less if they had chosen to try to return the kickoff). With one timeout and a predictable passing game, what are the chances ASU would have been able to respond and get their own winning field goal?
9. This is another unfortunate example of Pac-12 officials displaying horrifying ineptitude and costing a team a game. Worse yet, they once again cost a visiting team from another major conference a win against a Pac-12 team on the road leading to talk of "conspiracies" (Oklahoma fans still
won't let go of the 2006 Oregon game
, nor should they). Here's the thing, a conspiracy has to be well planned and it has to require a certain level of intelligence form those perpetrating the conspiracy. If you watch any Pac-12 football at all, you know the refs in this conference are not intelligent enough to pull off such a thing.
10. Finally, it needs to be said that the #CollegeKickers meme exists for a reason. This isn't the NFL where the kickers are automatic and poor kicking has been an epidemic in CFB for some time now. It is entirely possibly that Wisconsin could have missed the kick or had a bad snap or bad hold or even had a blocking breakdown that allowed for ASU to block the kick. Even if the officials had done their jobs correctly, it's no guarantee that Wisconsin would have won.