What teams are playing?
The Utah Utes and the USC Trojans.
Where is this game being played?
The Los Angeles Memorial Coliseum in Los Angeles, California.
What time does the game start and where can I find it on my television?
1:00 PM (PT)/2:00 PM (MT) on Pac-12 Network.
What is the point spread?
USC is favored by six points (-6)
What should I watch for when Utah has the ball?
Rick Bowmer/AP
The biggest factor in this game for either team is the health of Utah quarterback Travis Wilson. Wilson banged up his throwing hand last week and sustained an injury to his index finger. He was removed from the game after completing only three of nine passes and throwing a pair of interceptions. Wilson has been adamant all week that he will play despite his injury but we won't know until game time if that is a good thing. Is Wilson's finger in good enough shape to throw a tight spiral and remain accurate? If Wilson can't throw effectively how much rope will Kyle Whittingham give him before pulling him?
The biggest key will be whether Utah can minimize Wilson's impact on the game by running the ball effectively. The biggest reason Utah struggled last week wasn't because Wilson was knocked from the game and Adam Schultz completed only 13/24 passes in his stead. Utah failed on offense last week because the Utes could not run the ball and ended up putting the game on the shoulders of an inexperienced backup QB. Last week Kelvin York and Bubba Poole averaged less than four yards per carry and Lucky Radley had 37 of his 56 yards on one carry. Utah should be fine whether Wilson plays or not if they can minimize their need for big pass plays and get production on the ground.
Obviously, that means the key for USC's defense will be simple fundamentals. Can USC wrap up and tackle Utah's running backs and can the Trojans plug gaps avoid letting Utah blow open big running lanes? Once USC does wrap up and tackle, they need to get pressure on Wilson. No matter what health situation Wilson is in, he is sure to be at least a little short on confidence, doubting whether he can throw effectively. USC needs to pressure him and hurt his confidence as much as they can. If Wilson can build a rhythm with some early completions and allow his adrenaline to dull his pain, then USC will get shredded.
What should I watch for when USC has the ball?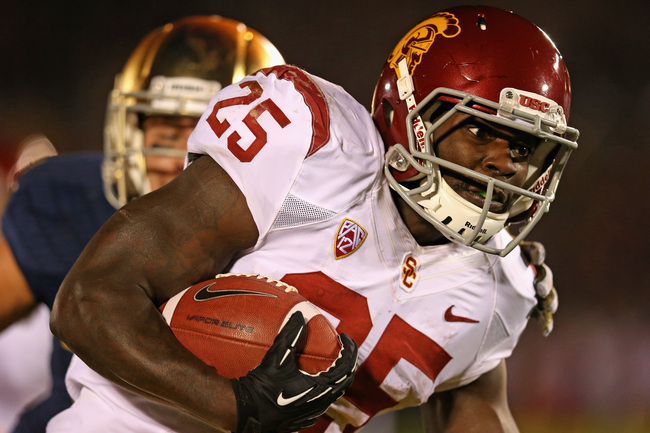 Jonathan Daniel/Getty Images
At this point what do the Trojans have left? This goes for the Trojans defense as well but the offense in particular has been decimated by injuries this year. Star wide receiver Marqise Lee aggravated his knee injury against Notre Dame and the Trojans top two tight ends Randall Telfer and Xavier Grimble have been ruled out for at least the Utah game while highly productive running back Justin Davis has been pronounced out for the rest of the season. The Trojans only had 53 players available to play against Notre Dame and lost the four players above as well as starting corner back Anthony Brown on defense. That leaves USC with no more than 48 of the players available last week to play on Saturday and it necessitates that USC will have to start emptying its bench and play walk-ons during meaning snaps. With Lee out and Nelson Agholor slowed by a rib injury (one that he will play through), the Trojans will have to play at least two and possibly as many as four walk-on wide receivers.
USC needs to do the exact same thing Utah must, run the ball. After Lee went down and USC's passing game devolved into a farce USC tried to shift to a run first game plan but couldn't consistently clear running lines against Notre Dame's very stout defensive line. USC fell behind 14-10 in the second quarter and began nine drives with a chance to retake the lead but didn't score any points over the course of the final 32 minutes of the game. USC was inconsistent on the ground and that left USC in a lot of third and long situations with a mediocre QB throwing to non-scholarship receivers.
This is all welcome news to Utah, a team that absolutely adores one dimensional offenses. What do Utah's two biggest wins (at BYU and Stanford) have in common? They were both against offenses that relied heavily on the run but Utah managed to neutralize both running threats and put the game on the arms of Taysom Hill and Kevin Hogan. Hill and Hogan weren't able to make big throws in obvious pass situations to move the ball on Utah and you're kidding yourself if you think Cody Kessler can succeed where those guys failed. The hope for USC is that Utah's run defense has not been singularly dominant as evidenced by what Arizona did last week. If The Trojans can copy Arizona's game plan and run effectively and compliment that with efficient and mistake free passing then the Trojans will have a great chance to win. If Silas Redd can't produce on the ground, then USC will be in a really tight spot.