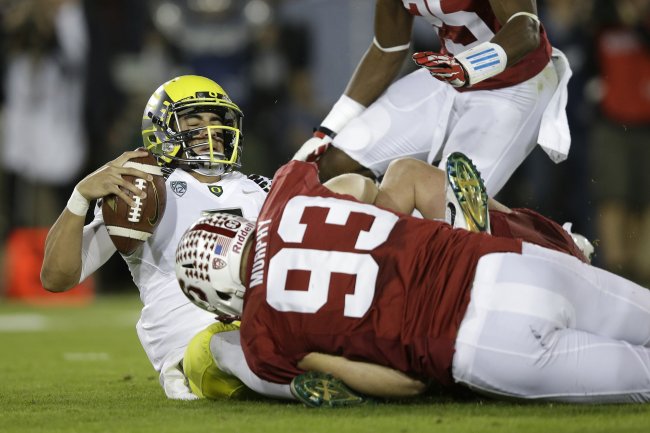 Ezra Shaw/Getty Images
Allow me to break down the fourth wall and talk in first person for a change. Last night sucked. It sucked to watch a team full of guys I care about wearing my beloved colors get bullied and pushed around on national television. It sucked to invest two and a half months of energy and passion to get to a point where I let my guard down and allowed myself to believe this Oregon team could finally win a national championship only to watch those dreams burn under the weight of a team that belongs in the 1960's. I spent the night trying to escape the moment where I said Oregon would win by 25 points and doing everything I could to block out memories of the 2007 Arizona game, 2011 USC game, and of course last year's Stanford game. I have far too many emotions and feelings going through me to form a truly coherent column about last night's game but I do have a few thoughts and angles that I need to share.
1. I stand by everything I said in my preview of this game that now makes me look like a moron. Ben Gardner's injury should have been crippling and may still be at some point, the Stanford offense had been stale, unimaginative, and unproductive all season, and the Ducks had gotten better since last season's meeting from a personnel standpoint. I had sound reasons for believing Oregon could win and win big and I regret none of the things I said before this game.
2. This is going to sound stupid but bare with me. Oregon is a better team than Stanford. Oregon is better built to beat any random team, the Ducks are built to take on anyone anywhere and beat them decisively. Stanford is specifically built to beat Oregon. Oregon hasn't lost to an unranked opponent since 2009 yet Stanford has suffered such a defeat in consecutive seasons. The Stanford program as it is currently constructed is built ideally for countering Oregon but not necessarily for beating anyone under any circumstances. That doesn't mean Stanford can't show up and beat anyone because they certainly can but their assembly and mindset as far as Oregon goes has made them vulnerable against other teams that normally should not have any chance at beating them (see Washington, Utah).
3. Stanford was playing possum offensively all year and a lot of people including myself fell for it. Stanford's lack of creativity and unwillingness to allow Kevin Hogan to use his legs has been maddening but it's clear now that David Shaw and Mike Bloomgren were saving all the good stuff for last night's game. In addition to Stanford's power with eight and sometimes nine offensive linemen on the field, we also saw effective zone reads, options, counter draws, and creative screen passes among other effective play calls.
To add on to my second point, Stanford had all this stuff ready and waiting in its play book all year but chose to wait it out until the Oregon game. It's funny because this strategy both worked beautifully and failed disastrously. Stanford sprung a great offensive game plan on Oregon and churned out first down after first down with ease and won the biggest game of the year. It also failed because the Utah game happened when Stanford flailed around aimlessly with a vanilla offense for three quarters and lost to an inferior opponent. Was it worth it? Sure, Stanford beat the Ducks and now control their own destiny to win the Pac-12 but if they had not had such a singular focus on beating Oregon, they would have beaten Utah and could be controlling their destiny for a national title.
4. Oregon is still a great team, is not soft and easily pushed around, and has a body of work that outweighs one bad performance. This comes up every time Oregon loses and it is so frustrating to hear but if Oregon were so soft and easy to manhandle then why do they beat everyone else by historic margins? If Stanford exposed the Ducks and gave a blue print to easily beat them then why does Oregon beat every other team they face by five touchdowns? Oregon is still one of the top five or six teams in college football and while Stanford has certainly shown a blueprint for stopping the Ducks, exactly how many teams in college football are properly equipped on both offense and defense to pull it off? The list ends after about three teams with Alabama and Florida State joining Stanford. Oregon can and will beat anyone else by three touchdowns or more.
This is still a great team and they will run the table and compete in a high profile bowl game with an 11-1 record. People laughed and said Oregon's house of cards had fallen after losing to Stanford last year but what happened after that? Oregon pummeled a ranked Oregon State team on the road 48-24 the next week and then beat a top five ranked Kansas State team by 18 points in the Fiesta Bowl despite hardly looking interested in being there. I'm sure voters and pundits will overreact and try to build a case for Oregon falling out of the top 10 but if you would honestly take Missouri, Clemson, Miami, LSU, Ohio State, Oklahoma State, etc. over Oregon on a neutral field then you are plain and simply a dumb ass and deserve to lose all your money.
5. This suddenly dawned on me late in the 3rd quarter last night, but instead of looking forward to contending for titles for the next however many years, Oregon as it is currently constructed may have missed its window to win a national championship. Stanford always had the right idea on how to stop Oregon but up until last season they never had the right athletes to execute that vision. Nothing has changed in Stanford's scheme and mentality towards Oregon in between 2010 and last night but Stanford's caliber of athletes certainly has. Oregon had a brief shot in 2010 and 2011 while Stanford was recruiting and developing those athletes to run almost uncontested toward a national title shot. They got to the title game after the 2011 season and blew it thanks to a terrible offensive game plan from then head coach Chip Kelly and a few really dumb uncharacteristic mistakes. Then in 2011, Oregon scheduled its way out of a title shot by cancelling a series with Kansas State to take on LSU in Arlington, Texas with three new starters on both lines in a game they never had a shot in.
The question is, can Oregon reverse what Stanford has done, perhaps sacrifice a few match ups in its other games and build a team specifically designed to beat the Cardinal? I don't know exactly how it can be done because if I did I would be working a far more lucrative job than the one I have right now. But just consider this, in 2010 and 2011 Oregon was the only team to beat Stanford in the regular season and therefore became the only road block between Stanford and a national title bid two years in a row. In 2012 and 2013, that has flipped and become the exact opposite. Every team has weaknesses and as Stanford proved, a program can be reshaped and modified to contend with a certain team without sacrificing the overall vision of the program. In the next two years, we will find out exactly what Mark Helfrich is made of, not as a coach but as the molder of a program. Can Helfrich figure out a way to get stronger and more physical, particularly along the lines, without sacrificing Oregon's trademark speed and tempo?
But, even if my intuition is right and Oregon's window closed after 2011, the landscape in college football is changing drastically next year. Under the current system, it is almost impossible to qualify for the national championship with one loss from outside the SEC. Getting back into the top two with one loss is darn near impossible for a Pac-12 team like Oregon or Stanford for that matter in today's climate. But with college football adopting a four team playoff, suddenly running the table is less of a necessity. Remember that Oregon face planted against Stanford last year and still ended up fourth in the final BCS rankings which would have given them a chance at the national title under next year's system. Don't forget that Stanford got blown out by Oregon in 2010 and worked their way back up to fourth at the end of the season and would have had a chance at a title shot under the future system.
6. For the love of God, will some program outside the Pac-12 please hire Derek Mason as a head coach? This is actually something Oregon fans can take comfort in for the future. There is a good chance that Stanford may never be this dominant again defensively. Obviously it depends on whether Mason wants to be a head coach right now or wants to sit and wait for the perfect job but he will get offers this off season and could be gone. Stanford is going to lose the heart beat of its defense this off season when their three best defenders Shayne Skov, Trent Murphy, and Gardner all graduate. They will also lose their superb defensive tackle Josh Mauro to graduation and stand to lose any number of Ed Reynolds, Henry Anderson, A.J. Tarpley, and James Vaughters to early entry into the NFL Draft. It's easy to forget that despite Stanford's current run of success being sustained over the last five years, they've only been on a high level defensively for the last two. If they lose Mason and all that talent, Stanford might be in for a massive regression. Stanford has recruited at a high level and has replacements ready to go but they have not yet had a chance to prove themselves to be a "plug and play" program that can lose any number of good players, no matter how good they are, and replace them with ease.
7. Stanford was simply a better football team last night. This isn't a case like last year when Oregon could explain the night away about lack of focus and being blindsided by a team they weren't ready for. The Ducks were ready for this one but got out-manned by a superior football team. You can play the what if game for Oregon about getting just a few bounces to go their way and I'll entertain that for a moment. Yes Oregon scores a touchdown on its first drive if Marcus Mariota could lay the ball out one yard further to Josh Huff and yes getting zero points on three positions inside the Stanford 30 yard line is incredibly rare but you can play that game with Stanford too. What if the Cardinal hadn't settled for five field goal attempts? This game could have been an epic blowout.
In the end, both teams and its fans will look back on this season partly with joy and good memories but a lot of melancholy and doubts about what could have been. Stanford will probably be 12-1 and playing in the Rose Bowl and Oregon will likely be 11-1 and off to either the Sugar Bowl or Orange Bowl. I don't care if you think it's "National Championship or Bust," a one loss season ending in a BCS bowl berth is a successful season by any standard. But both teams will have to wonder regretfully about what could have been.