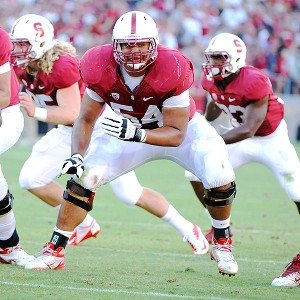 (photo cred: Rob Holt - Associated Press)
The countdown of the top 40 players in the Pac-12 for 2013 has reached the top 15 and with it comes the Pac-12's best offensive lineman. The next player on our countdown had a chance to turn pro and be a potential first round pick following a breakout Junior season but chose to stay in Palo Alto and get even better. The 15th best player in the Pac-12 for 2013 is Stanford Senior offensive tackle/guard
David Yankey
. In case you've forgotten, the first 25 players on the list are:
40. WR Chris Harper, Cal
39. OLB/S Dion Bailey, USC
38. S Alden Darby, Arizona State
37. OT Tyler Johnstone, Oregon
36. DE Chidera Uzo-Diribe, Colorado
35. S Deon Bucannon, Washington State
34. LB Shaq Thompson, Washington
33. DE Taylor Hart, Oregon
32. DT DeAndre Coleman, Cal
31. CB Terrance Mitchell, Oregon
30. C Hroniss Grassu, Oregon
29. DL Henry Anderson, Stanford
28. QB Kevin Hogan, Stanford
27. LB Carl Bradford, Arizona State
26. RB Storm Woods, Oregon State
25. QB Taylor Kelly, Arizona State
24. DL Cassius Marsh, UCLA
23. S Ed Reynolds, Stanford
22. OT Jeremiah Poutasi, Utah
21. TE Colt Lyerla, Oregon
20. RB Bishop Sankey, Washington
19. DT Leonard Williams, USC
18. WR Brandin Cooks, Oregon State
17. OL Xavier Su'a-Filo, UCLA
16. OLB/DL Trent Murphy, Stanford
David Yankey was simply the best last season. He was a Consensus All-American elected to either the first or second team of every significant publication and a unanimous choice among the 12 conference head coaches for first team All-Pac-12 honors. Yankey started all 14 games at left tackle for the Cardinal last season but will move inside to left guard for this upcoming year. The position change comes for a couple reasons. First, is because he is a physical roadgrader who will rise to the challenge of playing bigger and meaner defensive linemen on the inside of the line. The second is because Stanford's coaches wants to make room for rising star
Andrus Peat
at left tackle. Yankey is great but he doesn't possess the length and freakish athleticism of Peat who has the body and talent to one day be a top 10 draft pick.
Just because Yankey is moving to guard in favor of Peat, doesn't mean you should fool yourself into thinking Yankey was not a great left tackle. After scouring YouTube for awhile, I couldn't find a video with a spot shadow on Yankey however I will pass along this video from the Rose Bowl against Wisconsin. Just try to keep your eyes fixed on the left tackle. The best trait I always notice about Yankey is that he brings the fight to the defenders and doesn't give them time to make the first move. At the 0:23 mark, you see Yankey drop back about two steps in pass protection but instead of continuing to retreat and trying to mirror the pass rusher, he steps up, fires his hands out and lands a strong punch to the chest plate of the defender and stones him cold.
that aggressive attitude is really what makes him such a great player. Too many linemen just react out there and let pass rushers do what they want. Yankey is an exception though as he wants nothing more than to put his big frying pan hands on defensive linemen and let them know who's boss. Yankey doesn't have any particularly glaring holes in his game. He has ideal size at about 6'5'' 315, he's strong, he moves well, he bends at the knees, he maintains good balance, he uses his hands well, and he has proper understanding of blocking responsibilities and principles within Stanford's system. the one determent I will put out there is that while he certainly is not a bad athlete, he does not possess plus athleticism which gave him some difficulty against top end speed rushers. Andrus Peat does possess the raw athleticism to handle those speed rushers and that more than anything is probably why Yankey is moving inside.
But what more can I say about Yankey? He's the best in the conference at what he does and you'd be crazy not to take him on your team. Maybe he doesn't have the long term upside to reach the NFL as a tackle but with his skills, it's hard not to imagine a 10 year career for big number 54 on Sundays.