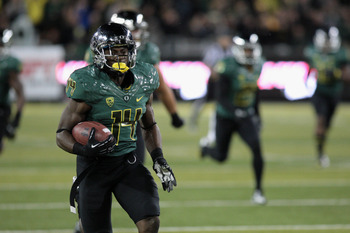 Scott Oimos - US Presswire
Today's subject in the top 40 series is arguably the best in college football at his position. He showed flashes of ability in 2011 but beat out an incumbent starter for playing time in 2012 and had one of the better seasons for a Pac-12 corner in recent memory. Opposing QBs tried to target this young man early in the year in hopes of avoiding the number 31 player in the countdown,
Terrance Mitchell.
However, that didn't go very well as this player showed himself to be superior to Mitchell and every other defensive back in the Pac-12. The eighth best player in the Pac-12 for 2013 is Oregon junior cornerback
Ifo Epre-Olomu.
Here's another recap before we get started:
40. WR Chris Harper, Cal
39. OLB/S Dion Bailey, USC
38. S Alden Darby, Arizona State
37. OT Tyler Johnstone, Oregon
36. DE Chidera Uzo-Diribe, Colorado
35. S Deon Bucannon, Washington State
34. LB Shaq Thompson, Washington
33. DE Taylor Hart, Oregon
32. DT DeAndre Coleman, Cal
31. CB Terrance Mitchell, Oregon
30. C Hroniss Grassu, Oregon
29. DL Henry Anderson, Stanford
28. QB Kevin Hogan, Stanford
27. LB Carl Bradford, Arizona State
26. RB Storm Woods, Oregon State
25. QB Taylor Kelly, Arizona State
24. DL Cassius Marsh, UCLA
23. S Ed Reynolds, Stanford
22. OT Jeremiah Poutasi, Utah
21. TE Colt Lyerla, Oregon
20. RB Bishop Sankey, Washington
19. DT Leonard Williams, USC
18. WR Brandin Cooks, Oregon State
17. OL Xavier Su'a-Filo, UCLA
16. OLB/DL Trent Murphy, Stanford
15. OL David Yankey, Stanford
14. TE Austin Seferian-Jenkins, Washington
13. LB Shayne Skov, Stanford
12. DE Scott Crichton, Oregon State
11. RB Marion Grice, Arizona State
10. LB Eric Kendricks, UCLA
9. DE/OLB Morgan Breslin, USC
Ifo Ekpre-Olomu really stepped up last year and had a huge season. I had a feeling he was going to do something special as soon as he was announced as a starter. In 2011, Ekpre-Olomu found himself in the rotation as a true freshmen following the
downfall of Cliff Harris.
Ekpre-Olomu played just fine as the Ducks third corner making 34 tackles and defending eight passes. He was however, behind on the depth chart to another freshman, a redshirt freshman named Troy Hill. Hill had a decent season, not particular good, not that bad although he was utterly victimized by Marqise Lee in the 2011 USC game. Even with Hill coming back for his sophomore season and expecting to get better over the summer, Ekpre-Olomu managed to beat him out anyway and suddenly, he was off to the races.
Terrance Mitchell had earned a reputation in the Pac-12 as a quality corner following his redshirt freshman season in 2011 so teams generally decided to throw away from him. The motivation to stay away from the proven performer Mitchell increased when teams saw a new starter on the other side of the field. But, targeting Ekpre-Olomu turned out to be a huge mistake as he led the conference in passes defended (20) and pass break ups (16) while intercepting four passes and finishing fourth on the Ducks with 63 tackles.
The main trait you will consistently hear analysts bring up when they talk about Ekpre-Olomu is that he "plays bigger than his size." Ekpre-Olomu is undersized at 5'10'' but scouts say he plays like he is 6'1'' or taller because his arms are longer than you think and he has a good vertical leap which allows him to reach and affect throws over his head better than most corners his size. He also plays with a chip on his shoulder as he does not shy away from getting in a receivers face and doing anything he can to get them off their game. He plays a physical, hard nosed brand of football as he frequently comes up hard on screens, outside runs, and short passes which lead to his high tackle numbers and a conference best six forced fumbles, twice as much as any other defensive back in the conference.
Those forced fumbles tap into what makes him really special and that is his ability to be a playmaker. Between his six forced fumbles and four picks, that's 10 takeaways. Ekpre-Olomu almost forced a turnover per game for the Ducks last year. He has great instincts for finding the ball as he reads receivers routes and the QBs eyes and is also very good at getting his hands on the ball to knock it away or pop it loose for a fumble.
Here's a nice long game film of Ekpre-Olomu from his two best games (Arizona and OSU) and his worst game (USC, although that seems like more of a function of who he was defending). At 0:43 you can see how well Ekpre-Olomu can play the ball even when it's in the opposing receivers hands. he gets beat pretty bad and leaps into air for the ball and can't reach it. Normally, this situation is game over for a corner but you can see Ekpre-Olomu make an amazing play as he swats the ball out of the receivers hands while he is still coming down to save a touchdown. Even when he gets beat he still makes a play.
The play at 1:25 always makes me laugh. Ekpre-Olomu really gets away with murder as he commits an obvious pass interference penalty. This is that "hard-nosed attitude" I was talking about. he gets all in Marqise Lee's face well outside the five yard contact area and gets Lee frustrated to the point that he gives up on the play and leaves Ekpre-Olomu alone to intercept the pass. Hey, it's only a foul if the referee throws the flag right? The play at 3:33 shows the "play bigger than his size" aspect of his game as he is physically outmatched against Lee (who isn't a giant but is definitely a bigger guy), but he uses his leaping ability and long reach to go up and knock the pass away to prevent another touchdown.
The play Ekpre-Olomu makes for the interception against Arizona at 7:14 is very interesting. Normally, there are two different kinds of corners, guys who get really physical with receivers and keep their eyes on them at all times and corners who play off and keep their eyes in the backfield, focused on the QB. On this play, Ekpre-Olomu jams the receiver hard and bumps him off his route and never gives him any separation but keeps his eyes on the QB the entire time. As a result, Ekpre-Olomu is able to take the receiver effectively out of the play but still react accordingly and go for the ball when the QB throws to the receiver whom Ekpre-Olomu has bumped off. Just a perfect play all around. His pick-six at 9:55 is indicative of his instincts and ability to read the QB as well. He's playing off coverage and giving up the short route. However, he sees the QB scrambling under pressure followed by the receiver breaking off his route and providing an outlet for the QB. He sees the receiver stop and anticipates the QBs throw, stepping in front of the receiver at the perfect time and making the interception for a touchdown. There are plenty of corners in the NFL, never mind the Pac-12 who don't possess the instincts to read that play and jump the route.
Ekpre-Olomu is simply the best. You can forget about finding an NFL draft projection that has him going outside the first round, in fact it's pretty hard to find a scout who doesn't think he'll be a top-20 pick. He is a great athletic, a physical player,a skilled cover corner, and one of the most instinctive and natural playmakers you will ever see at his position. The only real problem I have with him is that sometimes he can play a little too physical. Penalties called against individual players are not tracked very well in college but I'm sure that after watching that full film, you can see Ekpre-Olomu draws the ire of officials fairly often. Take it from someone who has seen every snap of his career, those three penalty filled outings in that video were not isolated incidents. Of course, those penalties coudl easily be seen as a necessary evil in order to get all the great things you get from him. Sometimes you live on the edge and make a big play, sometimes you live on the edge and get called for a 15 yard penalty. You have to take the good with the bad with some players.
Ekpre-Olomu should be in for another great season that should end with a 1st team All-Pac-12 selection just like last year. He'll be a strong candidate for the Thorpe Award as the nation's best defensive back as he was last year. Maybe now he'll reverse opponent's philosophies and force teams to start avoiding him and testing Terrance Mitchel instead.