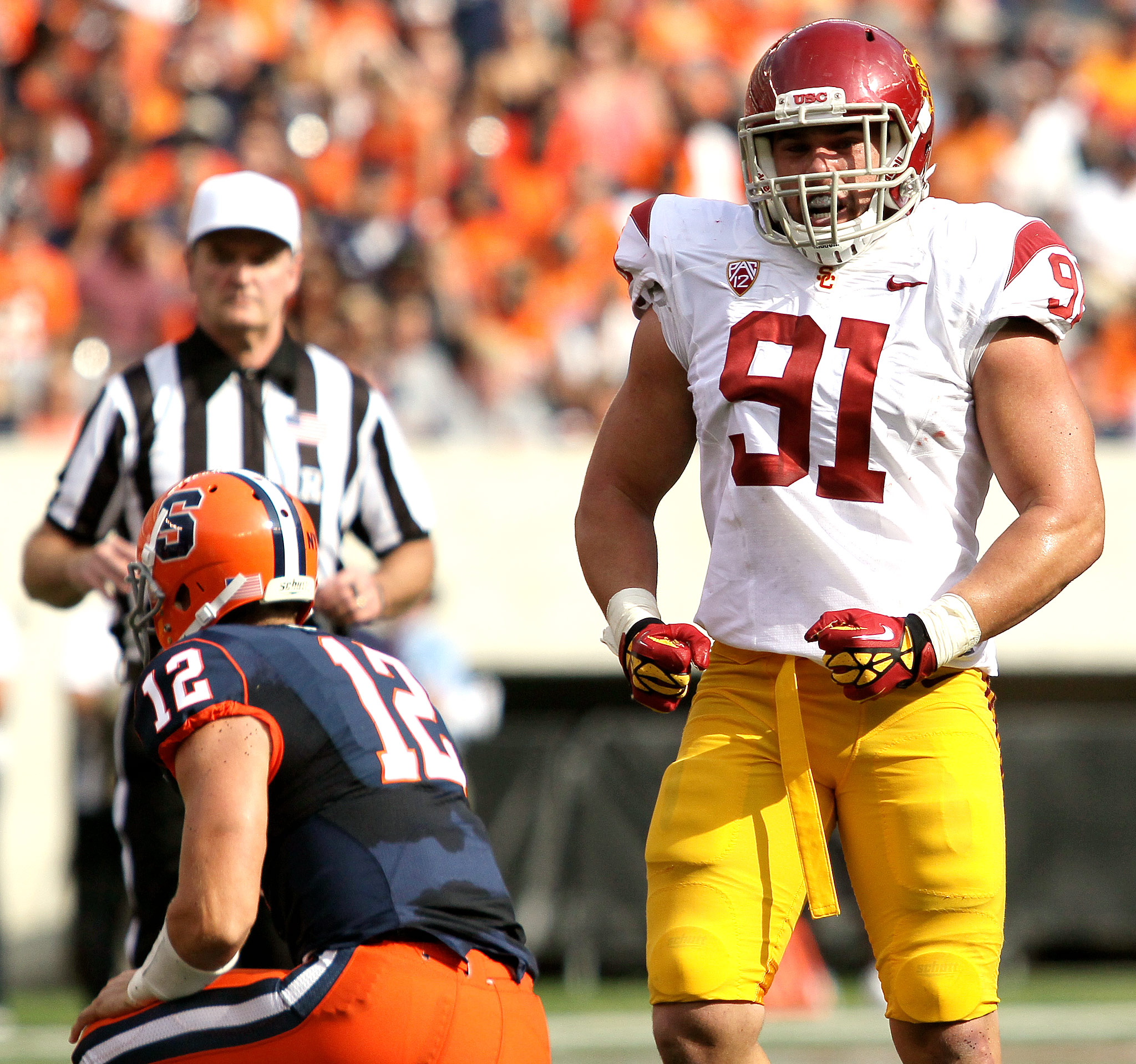 Jerome Davis - Icon SMI
We're finally into single digits on the countdown which means everyone take your pants off because we can count the number of days till college football without using all of our fingers.
Today's countdown subject was a junior college transfer last year who only got a chance to play significant snaps following an injury to another player. You never like to see someone get hurt but last year you could say the USC Trojans turned out to be kind of lucky that someone else missed the entire season with a pectoral injury. Without that, the Trojans never would have discovered this player, a man who seemingly overnight became one of the best pass rushers in college football. the ninth best player in the Pac-12 for 2013 is USC DE/OLB
Morgan Breslin.
The first 31 players on the countdown are:
40. WR Chris Harper, Cal
39. OLB/S Dion Bailey, USC
38. S Alden Darby, Arizona State
37. OT Tyler Johnstone, Oregon
36. DE Chidera Uzo-Diribe, Colorado
35. S Deon Bucannon, Washington State
34. LB Shaq Thompson, Washington
33. DE Taylor Hart, Oregon
32. DT DeAndre Coleman, Cal
31. CB Terrance Mitchell, Oregon
30. C Hroniss Grassu, Oregon
29. DL Henry Anderson, Stanford
28. QB Kevin Hogan, Stanford
27. LB Carl Bradford, Arizona State
26. RB Storm Woods, Oregon State
25. QB Taylor Kelly, Arizona State
24. DL Cassius Marsh, UCLA
23. S Ed Reynolds, Stanford
22. OT Jeremiah Poutasi, Utah
21. TE Colt Lyerla, Oregon
20. RB Bishop Sankey, Washington
19. DT Leonard Williams, USC
18. WR Brandin Cooks, Oregon State
17. OL Xavier Su'a-Filo, UCLA
16. OLB/DL Trent Murphy, Stanford
15. OL David Yankey, Stanford
14. TE Austin Seferian-Jenkins, Washington
13. LB Shayne Skov, Stanford
12. DE Scott Crichton, Oregon State
11. RB Marion Grice, Arizona State
10. LB Eric Kendricks, UCLA
Just like
Marion Grice
the number 11 player on this list, Breslin was completely overlooked as a high school recruit and didn't get any scholarship offers. 21 tackles and 12 sacks in 10 games during his sophomore season at Diablo Valley Community College put him on the radar and made him a unanimous four star recruit. While Grice had his choice of top programs across the country, Breslin was not recruited nationally but he was essentially given his pick of the litter of Pac-12 offers and he settled on USC.
Breslin arrived in Los Angeles with the coaches expecting him to be a solid depth player but they didn't seem to be expecting much from him. But, then
Devon Kennard
tore his pectoral muscle in a weight lifting accident
and was made unavailable for the 2012 season. Suddenly, the USC coaches were looking at Breslin to be a starter and be their key pass rusher. Breslin rose to the challenge and had a huge year.
Breslin started off hot with four tackles for loss and two sacks in his first two games and never went cold. Breslin record at least a half sack in every game except three. Breslin ended up tying for the conference lead with 13 sacks and was fourth in the Pac-12 with 19.5 TFLs. Breslin delivered beyond the USC coaches wildest expectations but what was perhaps more amazing was that he did it in a role that didn't best suit his skill set. You may have heard, I've certainly talked about it on this blog, that USC is transitioning to a new defense this season.
Despite his production, Breslin wasn't a great fit in Monte Kiffin's 4-3. He does not have anything resembling ideal size for a Defensive End at 6'2'' 250 pounds. That's hardly tiny but certainly below the 6'4''-6'6'' and 260-270 pounds normally expected from a 4-3 end. But now with Clancy Pendergast bringing in a 3-4, Breslin is moving to OLB where he is perfectly sized. Breslin's smaller stature created problems for him last year as he was not very good at the point of attack and opposing teams would try to neutralize him by running the ball right at him. With Breslin at Linebacker lining up way outside the tackle box, opposing teams will be less able to target him in the run game. I also think based on his size and very good athleticism that he will be better as a stand up pass rusher than he was with his hand on the ground. Breslin is also pretty good in space and he was used in zone coverage a few times last year and held up pretty well. I fully expect Breslin to get even better at his new position.
Here's a good scouting tape of Breslin from his best game when he produced 3.5 sacks against Cal. You can see right off the bat how quick he is. Cal runs a toss play to the right and Breslin just gets a great burst off the line and uses his quickness and athleticism to leave the right tackle in the dust and make the tackle. At the 1:00 mark, you can see what I'm talking about with Breslin playing in space. He drops into coverage and picks up the running back going to the flat and takes away the check down option for Cal QB
Zach Maynard.
I love the pass rushing move he uses at 1:35. He uses his quickness to get wide on the right tackle and dips his shoulder and drives his right arm underneath the Cal right tackle which gives the the tackle a smaller target to block and allows Breslin to drive around the tackle adn pressure the QB into a bad throw.
I also like that he isn't a one-dimensional pass rusher. In addition to having the great shoulder dip outside move that he uses frequently, he has a nice counter inside move when his outside move gets shutdown that you can see at 1:52. He also has a really nice inside spin move that he shows off late in the clip at 7:20. He has a great motor as is able to influence a few plays after the QB holds onto the ball too long which allows him to get to the QB and influence the eventual throw (or even get a sack) simply by never giving up on the play.
Breslin's NFL projection is somewhat volatile. I've seen scout projections landing him anywhere between the 1st and 3rd rounds. I have no doubt he will dominate on the field this fall especially in a position that better suits his talents. NFL teams would be looking at him as a stand up pass rusher anyway so I'm sure scouts will be happy to get a full year of film with Breslin playing that position. Even at OLB, his height isn't ideal and that might hurt him a little, but we've seen short pass rushers like
Bruce Irvin
and
Brandon Graham
go in the first round in recent years so I think Breslin can overcome that as long as he puts on a good combine performance.
The bottom line is Morgan Breslin is an elite pass rusher and may as well have been the one consistently good player on USC's defense last year. His future looks brighter at a new position with a defensive coordinator that isn't a senile old man running an antiquated defense that few 18-22 year old kids can grasp. If you've got USC coming up on the schedule, make sure you always account for Breslin because if you don't, your QB will be going home with a very dirty jersey.