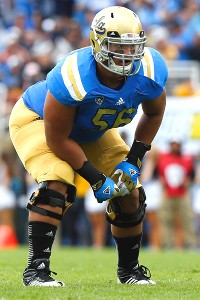 (photo cred: Rick Tapia - Icon SMI)
I'm sure you all have a serious case of the Mondays but I have something to cheer you up! Okay this won't cheer you up but it will distract you from doing boring things like work and putting the garbage out by the curb. That's right it's time for another installment in the 2013 Pac-12 Top 40 players countdown. The 17
th
best player in the Pac-12 started playing pigskin at UCLA back in 2009 but, heading into 2013 he still has two years of eligibility remaining. The next player on the countdown is UCLA Junior Offensive Lineman
Xavier Su'a-Filo
. The previous players on the list go as follows:
40. WR Chris Harper, Cal
39. OLB/S Dion Bailey, USC
38. S Alden Darby, Arizona State
37. OT Tyler Johnstone, Oregon
36. DE Chidera Uzo-Diribe, Colorado
35. S Deon Bucannon, Washington State
34. LB Shaq Thompson, Washington
33. DE Taylor Hart, Oregon
32. DT DeAndre Coleman, Cal
31. CB Terrance Mitchell, Oregon
30. C Hroniss Grassu, Oregon
29. DL Henry Anderson, Stanford
28. QB Kevin Hogan, Stanford
27. LB Carl Bradford, Arizona State
26. RB Storm Woods, Oregon State
25. QB Taylor Kelly, Arizona State
24. DL Cassius Marsh, UCLA
23. S Ed Reynolds, Stanford
22. OT Jeremiah Poutasi, Utah
21. TE Colt Lyerla, Oregon
20. RB Bishop Sankey, Washington
19. DT Leonard Williams, USC
18. WR Brandin Cooks, Oregon State
After reading the opening paragraph, you're probably thinking "gee, if he played as a freshman in 2009 that would have made him a Senior last season. Even if he got a medical redshirt somewhere along the line that would make him a Senior this year, not a Junior right?" Wrong, Su'a-Filo has had a peculiar career from an eligibility standpoint because he played in 2009, became a rising young star and then promptly left UCLA for two years before returning last year.
UCLA named him their rookie of the year as he became the first true freshman to start a season opener on offense for the Bruins and started all 13 games, the most starts ever by a UCLA true freshman who wasn't a kicker or punter. Su'a-Filo garnered second team freshman All-America honors and was an honorable mention for the All-Pac-10 team. The future was bright for Su'a-Filo as he seemed destined to become one of the premier young linemen in college, destined to turn pro early after the 2011 season and go on to make a lot of money in the NFL.
And then he left.
he didn't leave the Briuns high and dry for the same reason that most young players do. It wasn't because he was homesick, or that a coach had been fired, or that he didn't like the way coaches were treating him, and it certainly wasn't because of a lack of playing time. Rather Su'a-Filo is a devout Mormon and the Church of Latter Day Saints requires all followers to partake in a two year mission to spread the word of their church after they come of age. This isn't really a new thing in college football. The Mormon faith is obviously very strong in Utah and among Polynesian cultures everywhere so a lot of Polynesian players end up doing these trips. the difference with Su'a-Filo and most other Mormon players is that most other players do their mission either before they enroll in University or immediately after their eligibility expires.
Su'a-Filo originally decided out of high school that he would do the latter and play his four years at UCLA and then go on his mission. However, after his freshman season, Su'a-Filo reconsidered and decided the best thing for him would be to go on the mission as a teenager after all and suddenly, UCLA was without one of its best players.
Su'a-Filo served his two years to the LDS church and returned to Westwood last summer to find that things looked very different than before. There was an entirely new coaching staff as Rick Neuheisel, the man who recruited Su'a-Filo had been fired and replaced by NFL retread Jim L. Mora. Su'a-Filo also found that offensive coordinator Norm Chow and the pistol offense was gone in favor of Noel Mazzone and the up-tempo spread offense. furthermore, Su'a-Filo was told that he was not a left tackle but was to be moved inside to left guard. All of this was a lot to take in and I'm sure it would have caused more than a few players to not come back and choose to transfer somewhere else. But not Su'a-Filo, as he took command of his new position and new offensive scheme and had a breakout season. He never missed a beat after two years away and earned first team All-Pac-12 honors.
Su'a-Filo plays with a nasty mean streak and loves to get physical with defensive tackles. I loved the move inside to guard because Su'a-Filo did not have the length or athletic upside to really make a difference as a blindside protector. At guard, Su'a-Filo was able to use his brute strength and tenacity to create a solid push off the ball and move defensive tackles off the line off scrimmage, paving the way for Johnathan Franklin to pile up 1734 yards and 6.15 yards per carry last season. Here is a quality game film of Su'a-Filo from UCLA's big win over USC.
You can see the pros and cons of Su'a-Filo's game in this video. on downhill running plays, he gets a good push off the line and consistently knocks the USC DTs Leonard Williams, Gerge Uko, and others backward. I like the way he uses his hands and maintains good leverage by bending at the hips and not fully extending himself which allows him to maintain good balance. He dominates in the run game all afternoon but you also see his shortcomings.
He isn't the best pass protector, and USC exposed him a few times. At 2:22, he gets totally beat on a swim move. at the 4:00 mark a draw play was called so it was a run play but he has to block like it is a pass and he gets beat right off the line but gets lucky as the defender runs himself right out of the play. On the next play, he gets jacked up with one arm by Leornard Williams who continues to make him give ground and collapse the pocket before easily disengaging him and would have made the sack if not for Morgan Bresslin getting there first. Finally at 5:05 he misses his assignment, goes to block the wrong guy and ends up giving his man a free run at the QB.
Pass protection problems are indicative of his merely above average athleticism. Even in the ground game, you can see him pull and run out to the right looking for a block on a linebacker at 0:15 and looking totally lost as his man ended up tackling Franklin for no gain.
I'm not trying to harp on Su'a-Filo and say he is not a good pass protector. I actually think he is solid as a pass blocker and you can find plenty of examples of him doing his job and doing it well in pass pro against USC and in all 14 of UCLA's games. I just don't think he is great at it and that is what separates him from the absolute best offensive linemen in the nation. There is a top tier made up of guys like David Yankey, Taylor Lewan, and Jake Matthews, and then there's a second tier just below that comprised of players like Su'a-Filo. There's nothing wrong with being very good but not quite great and Su'a-Filo is a very, very good player.
Now that he has a full year of being in Mazzone's system and playing left guard, I expect Su'a-Filo to get even better. His dynamic run blocking should help UCLA ease the pain of losing their All-American tailback Franklin and his age and physical maturity should give him a leg up on the competition. He lacks the size and upside to become a premier player but he absolutely maxes out the physical tools he has been given every Saturday and you can't ask for more than that.