Okay, confession time. When I started this blog I was unemployed and looking for something to do and I figured this would help me jump start my writing career in some way. I was able to churn out 2000 words a day and it was no problem. Then I got a job about a week ago and that sapped me of most of my free time and energy that I was using to write Athletes in Space. Now that I've been working for a little while I've found a routine that will allow me to go to work and put out spectacularly mediocre content here on the blog everyday. I'll have more content being pushed out on the weekends but my goal is to do at least one post per day before I go to work.
I know Pac-12 Media day was a week ago and some of the individual schools are already having their own media days so in lieu of going over some press conferences that happened a week ago, I'll just run through some news and notes that have come out in recent days.
Husky Stadium has reopened for business, and it looks gorgeous.
Time for some real talk. The old Husky Stadium was one of the worst dumps of a sporting venue even put in use. It really says a lot that Seattle lost the Super Sonics because Key Arena was so decrepit yet it wasn't even the worst facility in the city. That has changed now as Washington is ready to show off it's new place to the world as the team was allowed to practice within the confines of Husky stadium for the first time this past week. Here's a nice before and after photo: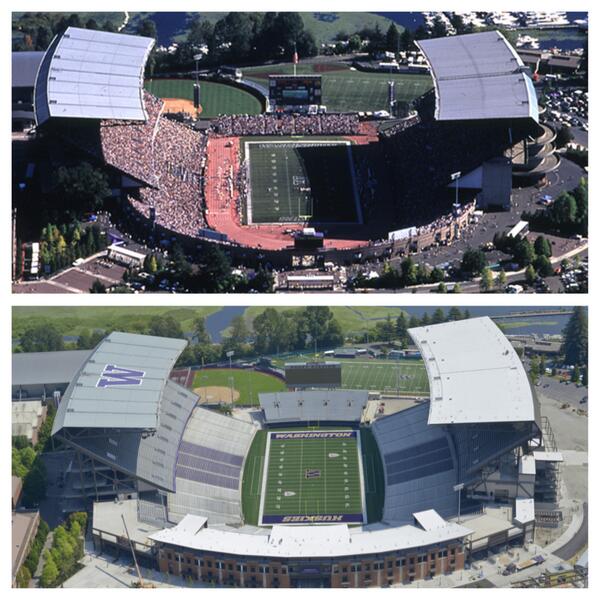 The big deal for me anyway is that the track is gone. I was at Husky Stadium in 2011 for Ducks-Huskies and was sitting in the end zone (foreground of the picture) about 15 rows up. Normally supposed to be great seats right? nope. Because of the track, it felt like being in the upper deck. The distance from the field was about the same as being in the upper deck but the seats were still in the lower bowl so you didn't get that nice high up view to see the whole field. As a result, you couldn't see a damn thing at the other end of the stadium.
They've also dealt with the suspended press box attached to the roof that would sway during games, updated the scoreboard, and improved the comfort of the seats among other things. I also like that UW built a new football operations center and attached it to the stadium above the near end zone, similar to what Colorado has at
Folsom Field,
A look that I am personally a huge fan of. I used to go to UW games fearful of getting hepatitis from just sitting on the benches. Now, I can't wait to go check out the new digs.
Speaking of new digs and football operations buildings, Oregon just built a spaceship and it will make you poop your pants.
Oregon had been building this monstrosity for over a year and gave little in the way of details as to what the structure would ultimately be used for ("football operations" was always a little vague no?) and what the innards of the structure would look like. That was all finally put to rest last week when Nike U opened up the
$68 million Hatfield-Dowlin complex
and unveiled the greatest achievement in the college athletics facilities arms race thus far.
I'm really happy to see this thing built entirely by private money. Major universities constantly upgrading athletic facilities using taxpayer dollars and student fees has been a negative sticking point for a lot of people including myself but when it's built by private money, awesome.
The
locker room
looks like it belongs on the
Starship Enterprise
and
Mark Helfrich's office
is probably more immaculate and advanced that the offices belonging to CEO's of multi-billion dollar corporations. I'm not sure about
"eating your enemies"
since I have a feeling that Trojan meat with a garnish of trees and a side of Sun Devils won't taste very good, but the Buffalo meat from the Colorado section should taste good. Also, where can I buy those carpets for my place?
Lane Kiffin is safe at USC...allegedly.
Just prior to Media Day, USC Athletic Director Pat Haden put out a video on "the state of football at USC."
Haden goes through the usual riff-raff you expect from ADs. It's an exciting time of the year, there will be anniversary celebrations, they'll improve the fan experience, yada, yada, yada. Haden went out of his way to talk about embattled head coach Lane Kiffin and gave him a vote of confidence. Haden is "behind Kiffin 100%" and has "great confidence in him." Will I run these quotes and this video over and over again every time USC loses a game they shouldn't? probably. Will I write a blog post about this video when USC inevitably falls short of expectations again? yes. Will I run this video over and over again when Pat Haden is introducing James Franklin as the next head coach at USC in December? oh hell yeah.
This statement feels more like Haden writing cheques that Kiffin can't cash more so than a vote of confidence. Haden talks about academics and community service which is fine but I hope no one out there honestly believes that anything other than winning matters at USC. the hire of Kiffin was Mike Garrett's last act as AD. Kiffin is not a Haden guy and Haden did not hesitate to fire men's basketball coach Tim Floyd whom he also inherited from Garrett midway through last season after giving him a vote of confidence. You can take Haden's words at face value if you want but personally, I am not that gullible.
BJ Denker is the favorite to be Arizona's QB, but you probably knew that.
While the QB competitions at USC, Cal, and Oregon St. appear to be dead heats, Arizona seems to be have found their man for this season. Denker was Matt Scott's backup last season and even got a chance to start against lowly Colorado and had an impressive afternoon. He wasn't asked to do much but he threw a couple really nice passes and looked good running with the ball. With former USC transfer Jesse Scroggins slowed by injury all summer, Louisiana Tech transfer Nick Isham probably lacking the talent to succeed in the Pac-12 and true freshmen Anu Soloman and Khari McGee not being field ready, Denker looks like a lock to be the man barring something drastic. I am very high on Solomon's talent and future potential but I think the best thing for everyone is for the Senior Denker to lead this year and provide a redshirt year for Solomon to adjust, mature, and learn the offense.
That's about it for now, I'll be dumping a bunch of names in the top 40 countdown in a bit to get caught up on the list.